Our strategy is to produce secure, long-term returns to our shareholders.
Latest Reports
2021
2020
2019
2018
2017
2016
2015
Archive
Investor Calendar
Annual general meeting
20 May 2021
Posting of Accounts, Notice of AGM,
PDMR & TVR
21 April 2021
Final results
8 April 2021
Annual general meeting
10 June 2020
Posting of Accounts, Notice of AGM,
PDMR & TVR
6 May 2020
Final results
30 April 2020
Company registration number
00224271
Registrars
Link Group
10th Floor
Central Square
29 Wellington Street
Leeds
LS1 4DL
Highlights
Dividends payable
to shareholders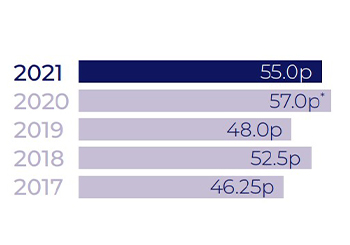 Net asset value
per share



Total earnings
per share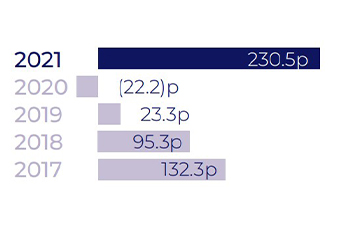 Adjusted earnings
per share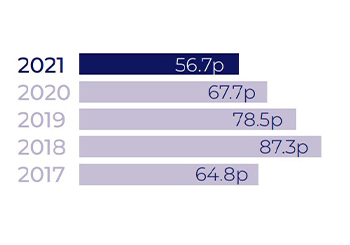 Company performance
The graph alongside shows the company's Total Shareholder Return (TSR) compared to the FTSE 350 Super Sector Real Estate Index over the last ten years which the board considers to be the most appropriate benchmark. TSR is defined as share price growth plus reinvested dividends.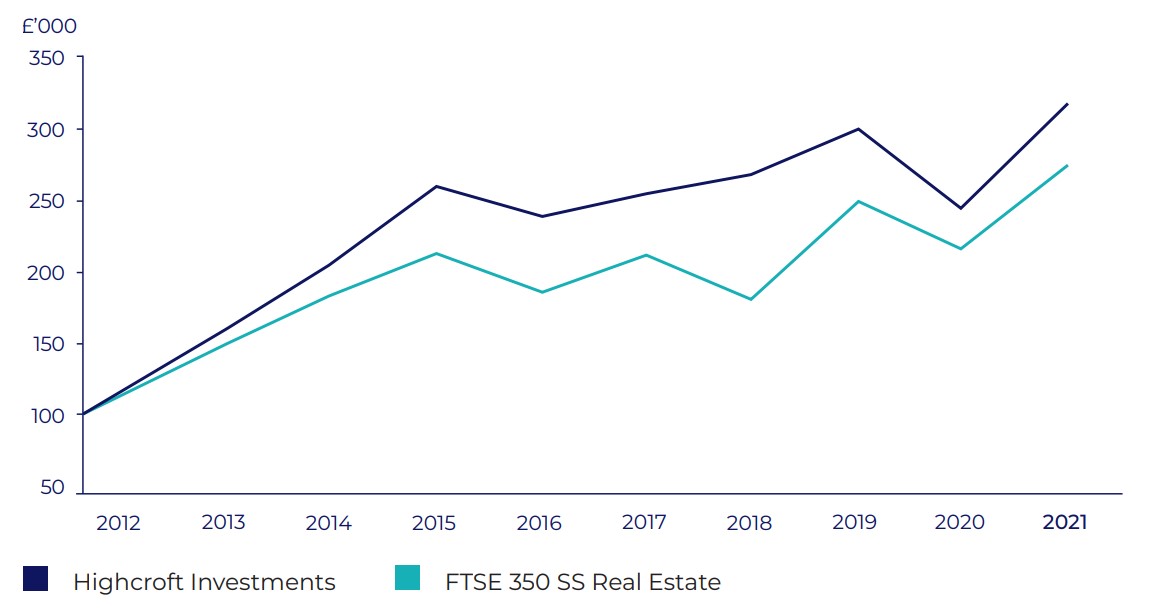 Annual general meeting
The ninety fourth annual general meeting of the company was held at the offices of Singer Capital Markets, 1 Bartholomew Lane, London, EC2N 2AX on Wednesday 18 May 2022 at 2.00 p.m.
Substantial shareholders
As at 30 April 2022 the following notifications of interests in 3% or more of the company's ordinary share capital have been received. The issued share capital of the Company was increased in April 2022, which also resulted in a modification of percentages held.
Beneficial
Number of shares
D G & M B Conn and associates
23.46%
1,218,705
Controlling shareholder – Kingerlee Concert Party comprising
– the wholly owned subsidiaries of Kingerlee Holdings Limited:
Kingerlee Limited
9.91%
515,000
Kingerlee Homes Limited
7.68%
399,093
T H Kingerlee & Sons Limited
9.52%
494,770
Total – Kingerlee Holdings Limited
27.12%
1,408,863
–other associates
13.83%
718,519
Total – Kingerlee Concert Party
40.95%
2,127,382
Shareholder composition
Kingerlee Concert Party
Conn Concert Party
Other shareholders
Key Information Document
Packaged Retail and Insurance-based Investment Products (PRIIPs) Regulation
The listing category of Highcroft Investments PLC is "Premium Equity Commercial Companies". Highcroft Investments PLC is not an investment fund and so it is not subject to the Packaged Retail and Insurance-based Investment Products (PRIIPs) Regulation which took effect on 1 January 2018 and requires certain investment funds and other investment entities to publish a Key Information Document (KID).
Company registration number
00224271
Registrars
Link Group
10th Floor
Central Square
29 Wellington Street
Leeds
LS1 4DL